A sense of space and openness
The award-winning design of the Rundeskogen Towers combines innovative forms and materials, while guaranteeing residents and neighbors breathtaking views of the Norwegian fjords.
­The Rundeskogen Towers in Sandnes, Norway, are an extraordinary example of the novel and exceptional use of space and hybrid construction structures. Located in an area dominated by small-scale buildings, the three residential high-rises stand out by their volume and height. Yet, architects Helen & Hard and dRMM created a clever and distinctive design that integrates them with their surroundings and gives back to the community by creating abundant public spaces.

THE SITE CHALLENGE
­The three towers are located in the Rundeskogen hill, which is situated next to the infrastructural node that connects the southern Norwegian cities of Stavanger, Sola and Sandnes. Wide-open fields spread to the west, while thick woods delimitate the area to the north. Having the scenic Gandsfjorden fjord as a backdrop to the east, the skyline is mostly characterized by flat industrial warehouses and low-rise residential complexes, interweaved with patches of green areas.
­The planning of the project started in 2005 as a collaboration between local architectural firm Helen & Hard and London-based dRMM. ­The initial master plan was to build a single high-rise block with eight storys. "We were very much against this because we felt it was wrong, for the quality of the space, to have this one big wall," says Siv Helene Stangeland, partner and principal architect at Helen & Hard.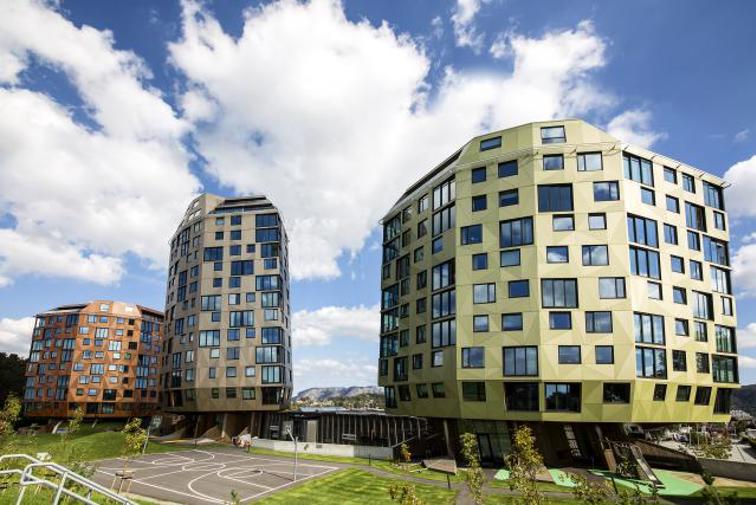 "Right away we started asking regulators if we could build up higher to provide more view," she recalls. Additionally, because of its proximity to a Viking burial site, the density of the design had to be restricted. Th­e architects came up then with the idea to have three compact buildings. ­The tallest would have 13 floors, and the others 9 storeys each. Th­ey also decided to lift the first floors of the structures to minimise their footprint and to allow the houses behind to maintain and enjoy the fjord views.