North of the arctic circle, Trespa® Meteon® panels brave the elements
Tromsø, Norway's northernmost city, is located on an island well above the arctic circle. Tromsø has a population of nearly 80,000, and at such an exceptionally high latitude, there are only two other cities of similar or larger size anywhere in the world. Therefore, when Knut Brandsberg-Dahl of Filter Arkitekter in Oslo decided to take part in the competition for a new school building, he was aware that the project would be unusual in more than one way.
"We are a fairly small architectural firm that was founded in 1999, with two partners, Thomas Lærdal and myself, and a total of ten architects. Although we do housing projects as well, public buildings feature prominently in our portfolio – and among them, educational buildings are certainly a forte", summarises Knut Brandsberg-Dahl. "This focussed expertise is important, because all larger public projects are  competitions, and we need both good ideas and excellent credentials to win them. The Sommerlyst School in Tromsø was no exception".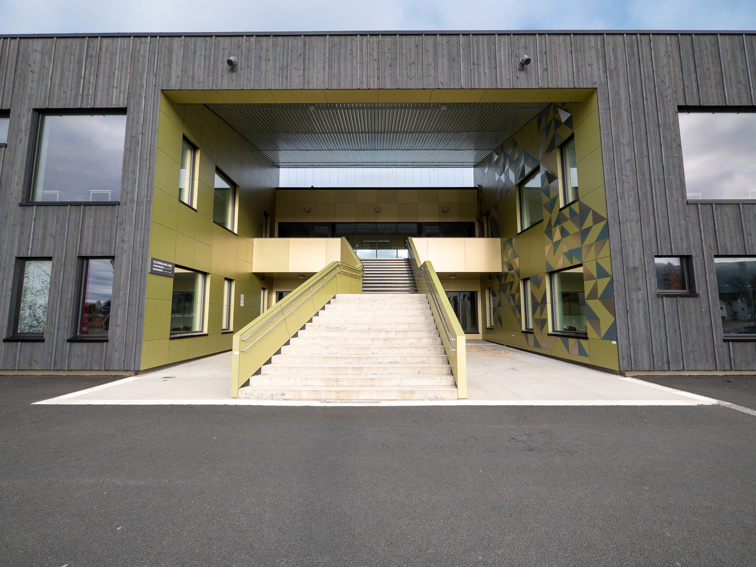 A MODERN PROJECT STRONGLY ANCHORED IN NORWEGIAN TRADITIONS
The building had to be erected on fairly sloped land, with a height difference of around 4m, and Filter/Arkitekter came up with an overall design that did not only take this situation into account, but made the most of it. In the middle section of the school, a sizeable amphitheatre and a gym, while taking advantage of the added height, act as logical links: they unite both wings of the building without interfering with the flow between the classrooms, the administration and the other areas – including the wardrobes. Knut Brandsberg-Dahl comments with a smile: "Wardrobes are an integral part of any school in Norway, as the pupils are not only supposed to leave there all the cold-protective stuff they need in such a harsh climate, but their shoes as well!'.
Three aspects were important for the municipality: the school had to be built to passive house efficiency standards, thus minimising its energy footprint, it had to seamlessly integrate pupils with special needs – a standard among the country's educational policies – and it had to make good use of local materials. Knut Brandsberg-Dahl explains: "We chose pressure-treated wood with a dark grey stain finish for most of the façades, a commonly used option in Norway.
The vertical planks generate an attractive, rhythmic pattern. For the entrances, though, we wanted to create a fresh and interesting contrast – with a different, smooth material in a complementary, yet clearly specific colour. This is where Trespa came into play".
The building has five entrances, which are all covered or deeply recessed for protection, considering the local weather: between November 2019 and April 2020, no less than 6.50m of snow fell in Tromsø! One of the entrances includes a porch extending all the way to the car park, for convenient, all-weather wheelchair accessibility. All entrances are entirely clad with Trespa® Meteon® panels, with the extended porch supported by a striking combination of triangular and trapezoid side panels that double up as pillars.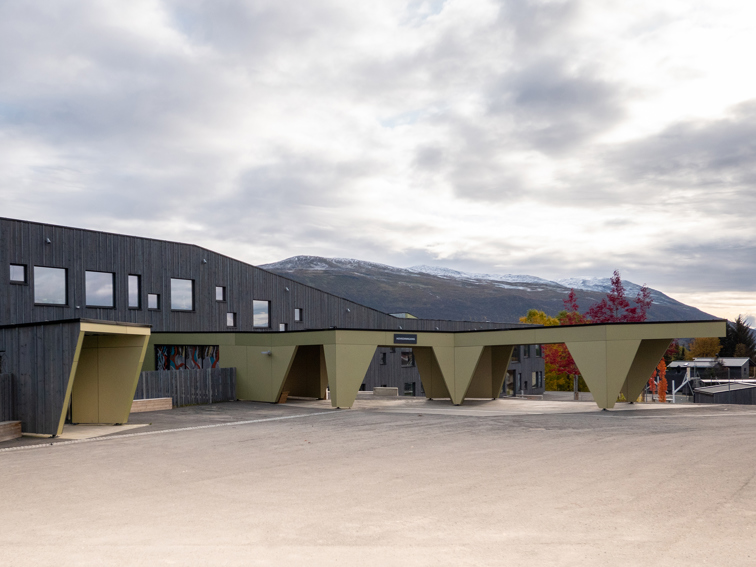 A BETTER ALTERNATIVE
Knut Brandsberg-Dahl continues: "Trespa HPL panels (High Pressure Laminate) are not yet widely used in Norway. But we looked at a housing project in Stavanger and ordered some samples from Trespa to test the material. 
Whatever we used to challenge the panels' resistance – metal tools, sharp blows, liquids, dirt – nothing happened, which was really impressive! Obviously, the material was ideally suited for areas with heavy traffic". Aesthetic criteria were met with equal ease, as it turned out: "From the start, we very much liked the available colours and finishes.
Not that other manufacturers do not offer a large choice. Some do indeed. But other cladding options often look fairly dead – not the best starting point for a school project. Their colours are dull and sometimes even ugly. On the contrary, it was immediately obvious that the people at Trespa have really good taste".
He adds: "This was in fact only the beginning of the story, because we wanted to find a really harmonious complement to the dark wood. In addition, we were looking for a shade that would closely match some of the materials used inside the building as well – birch plywood on the walls, for example, and the gym ceiling, which features wood-cement acoustic panels left intentionally untreated".
"For the entrances, though, we wanted to create a fresh and interesting contrast – with a different, smooth material in a complementary, yet clearly specific colour. This is where Trespa came into play."
Knut Brandsberg-Dahl, Architect
The architects at Filter Arkitekter ended up choosing solid-coloured Trespa® Meteon® panels in a soft shade of pale gold from the Metallics collection, M40.3 Mustard Yellow in Satin finish. "We liked the colour as such, and what we liked even more was the possibility to achieve a very subtle tonal play. The panel finish is directional, and by installing every other panel at a 90° angle, we could achieve a really unusual checkerboard effect. It is all the more interesting as it changes constantly depending on the viewing angle and the weather. It makes the surface come alive, it is refined, and it contrasts beautifully with the rather rough texture and the colour of the wood cladding". In addition, the architects took advantage of the extensive Meteon® palette to decorate one of the main entrances with a frieze in muted metallic colours. It is entirely made of triangles, and here again, the material's subdued sheen and the way it interacts with natural light makes it particularly attractive.
"Whatever we used to challenge the panels' resistance – metal tools, sharp blows, liquids, dirt – nothing happened, which was really impressive! Obviously, the material was
ideally suited for areas with heavy traffic."
Knut Brandsberg-Dahl, Architect
A SUCCESSFUL PREMIERE FOR THE INSTALLER
As Knut Brandsberg-Dahl points out, the Sommerlyst School was not only his firm's first project with Trespa: it was also uncharted territory for the installer, Econor AS. "They had never dealt with HPL cladding before. They are local, though, and as members of the community, they take real pride in doing it right. Accordingly, they tried hard – and succeeded. They took our shop drawings and insisted on cutting all the panels to size themselves, on location. Initially, the hardness of the material – one of the aspects we had appreciated right away as architects – surprised them. But they adapted the process to take this fact into account, and the final result is flawless: we couldn't be more pleased with it".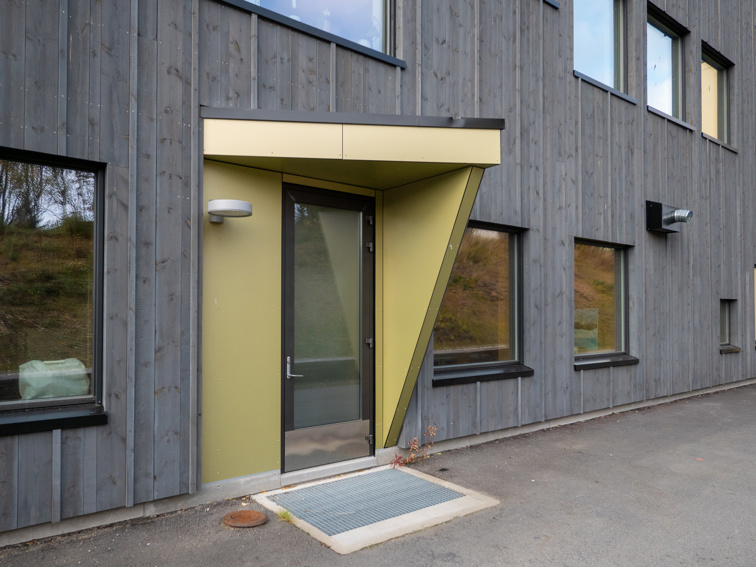 FUTURE DEVELOPMENTS: HURDLES AND PERSPECTIVES
The school in Tromsø was completed in 2016. In the meantime, Filter Arkitekter wanted to use Trespa® Meteon® panels for a new project. Knut Brandsberg-Dahl explains: "It was again a competition, which we  won, and again, we were keen to use Trespa HPL cladding. But the general contractor, who has a right to substitute suppliers according to the rules here in Norway, chose another product. In my opinion, there is a problem with such an attitude. The workmanship warranty for Norwegian contractors is only five years. After this, the municipality is on its own, although the lifespan of the façade is 30 years or more. After the general contractor has won the bid for the whole job, he delivers what he decides to, with a clear focus on low costs. Basically, he tends not to care that much about what will happen in the long run". The architect concludes: "The fact that the Trespa® Meteon® cladding in Tromsø looks as good now as four years ago – and it should stay that way for a long time – actually speaks for itself. Clearly, our own experience with Trespa has been very positive. I'm therefore hoping that from a global perspective, durability and quality will gain ground as major criteria in the foreseeable future".
ARCHITECT KNUT BRANDSBERG-DAHL, FILTER/ARKITEKTER
MARKET SEGMENT EDUCATION
BUILD TYPE NEW
USE FAÇADE
FIXING SYSTEM VISIBLE TS150
PRODUCT TRESPA METEON M40.4.3 MUSTARD YELLOW
M40.4.3 Mustard Yellow is no longer available. Click here to see all currently promoted Trespa Meteon decors.
Read more about the Sommerlyst project in an interview with Peter Kåveland, Scandinavian Sales Manager for Nordic Facade Solutions.