Obviously, Nemho (next material house) was born of lofty ambitions: its multidisciplinary and multinational team spearheads the development of cutting-edge, sustainable new products within Broadview Holding. The group, with its five companies – Arpa, Westag-Getalit, Formica, Homapal and Trespa – and a worldwide network of subsidiaries, is a global player in its core area of expertise – laminates and derived products.
As part of the group's strategy, Trespa, which is headquartered in the province of Limburg, in the southeastern part of the Netherlands, has specialised in applications based on HPL (High Pressure Laminate). They include cladding products for ventilated façades – in particular, the Trespa Meteon®panels and the Pura® NFC by Trespa sidings – as well as the scientific surface solutions of the Trespa®TopLab® range. This range of HPL table tops and wall linings for lab environments is popular with universities, medical facilities and R&D centres around the world.
Pieter Peters comments: "Originally, we had envisioned a campus-like layout. Out of practical considerations, we later settled for a single building. We were keen, though, to retain the campus atmosphere – with a maximum of transparency and a spacious, open look and feel. The abundant use of natural light and the uncluttered interior design are meant to foster interactions and exchanges. At the same time we are providing the R&D team with all-new, state-of-the-art equipment and tools."
André Horbach brings it to the point: "The architectural concept had to make our focus on innovation obvious at first sight. To make an innovative statement, we logically wanted to work with one of the Netherlands' top architectural firms. Our shortlist comprised three of them, but Broekbakema, in Rotterdam, surprised us with a concept that was truly unique. We developed an excellent working relationship with their director, Erik van Eck, and we are more than happy with the result. When I recently toured the new facility with my CEO colleagues of the group's other entities, we all agreed: the building is, quite simply, a stunning success".
A completely new take on ventilated façades
Disruptive ideas, though, are seldom a recipe for immediate consensus. Pieter Peters explains: "In fact, when Erik van Eck showed us the first drawings, most people did not like them, and some found the ideas truly outlandish. Traditionally, façade panels are fairly large, and the cladding is flat. Here, the idea was to use really small panels and install them like overlapping tiles. In addition, the architects suggested a sophisticated, intricate combination of finishes and gloss levels. Being relatively new to the company, I might have felt less constrained. In any case, I was amongst the early adopters of Broekbakema's concept. In the end, many more amongst my colleagues shared my point of view: the completed ventilated façades look truly beautiful and now, everybody is enthusiastic".
Erik van Eck underscores: "I had never built with Trespa® products before, but I was convinced from the start that we had to come up with something special – a spectacular idea that would reveal some of the untapped aesthetic potentials of Trespa® Meteon® façade panels". He continues: "We are an architectural firm with very strong traditions. We have been in business for 100 years – and our headquarters are located in the Van Nelle Fabriek, which happens to be both the firm's very first project, back in the 1920s, and a UNESCO World Heritage Site. Our motto is 'Powered by nature to empower people', and it certainly applies to Nemho."
"We always strive for concepts that will inspire people and make them happy to live or work in the buildings we create. Therefore, we are keen to interact with our clients. We favour a strong collaboration that makes everybody part of the design process. At the same time, our 'natural' approach lent itself to incorporating some admittedly unusual components – a pattern reminiscent of snakeskin and a design inspired by the picture of a forest. It deliberately hints at the material's origin, since Trespa® panels contain 70% natural fibres".
Erik van Eck goes into the details: "For many people in the Netherlands, Trespa panels are a rather conventional option. Accordingly, the main challenge for me was to take them totally by surprise. In addition, developing a novel, progressive idea would be perfectly in sync with the building's R&D purpose. That is why, as a result, we resorted to Trespa® Meteon® panels that look and work like the scales of a reptile's skin."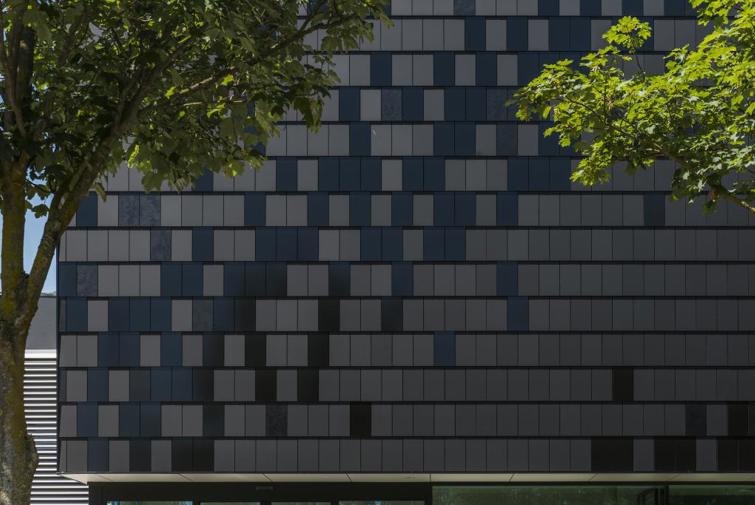 "Macro, meso and micro" patterns – a unique approach to façade design
The idea involved unusually small, overlapping panels to create a shingle-like, distinctively scaly pattern. Its appearance is strikingly different depending on the distance between the viewer and the building: smooth from afar, it reveals its staggered structure at close range. Then, for good measure, the architects superimposed two additional visual levels – they combined different finish variations and devised a design that uses each Meteon® 'scale' in much the same way as a pixel on a computer screen.
Erik van Eck remarks: "We started with the picture of a forest in Finland and then, we zoomed in to create a close-up – all the way down to the molecular structure. This resulted in several levels of readability: the design interacts with the viewer on a macro, meso and micro level. At the same time, we played with black. Trespa® Meteon® Lumen panels come in a rather unusual variety of shades and finishes, from shiny to satin to matt. This allowed us, by combining three finishes – Diffuse, Specular and Oblique – to create a design that literally comes to life in the sun, when each finish reflects the light in its own, more or less muted, an ever-changing way".
A technical tour de force
He adds with a smile: "The Nemho façade was indeed a major challenge, but I tend to consider that everything is possible – and that in the end, it will still be cheaper than flying to the moon. As Erik van Eck remarked, our mock-up was a turning point. From then on, things started rolling fast. There is hardly a day when I do not deal with a Trespa project, so I just had to make this work".
Obviously, the most ambitious concept is only as good as its execution, a fact that both Trespa and Erik van Eck were acutely aware of. "As Nemho would showcase Trespa's expertise and the aesthetic possibilities of the Meteon® range, we had to be 150% certain that the end result would live up to everybody's expectations", Erik van Eck points out. "This is when Sven Drooghmans, a Belgian installer, came into the picture. 'I think we can do it' was the first thing he told us. Yet despite his assurance, experience and sterling reputation, Trespa was still hesitant. So, he suggested a 1:1 mock-up to demonstrate the feasibility – which proved very convincing indeed".
Sven Drooghmans introduces himself: "Our company has been around for 50 years. I joined 21 years ago, and since I took over from my father in 2006, I have continued to expand our competencies and further integrate our services. We are specialising in ventilated façades, and we have been working with Trespa for three decades. We were, in fact, one of the first Belgian companies to use the Trespa®range of façade products. More recently, we have been intent on becoming a one-stop shop and on diversifying into metal cassettes as a complementary activity. This has resulted in the takeover of a sub-framing supplier and the merger with Limeparts, a cassette system manufacturer. Today, we are employing 115 people, and our range of action includes all of Benelux as well as, to a lesser extent, parts of Western Germany and Northern France".
Limeparts-Drooghmans developed a bespoke solution to fasten the smallish Trespa® Meteon® panels – which were individually numbered to faithfully reproduce every 'pixel' of Broekbakema's design – to the building's façades. Sven Drooghmans continues: "The crucial component is a custom-made sub-framing. It is based on horizontal aluminum profiles with special hooks and adjustable screws. We had to include perforated dilatation profiles, and make sure the fastening system for the panels would remain invisible, according to Erik's wish. Although nothing quite like this had ever been done before, it worked out very well. I must mention the fact that I drew some technical inspiration from my own house. My architect is fond of non-standard solutions in his own right, and he had developed a design that integrates roof and façade into one continuous cladding. This was, in a way, a warm-up exercise, as some of the technical answers I had come up with, back then, proved applicable to Nemho ".
A building site – almost – like any other
Gerard Karelse of Heinen+Partners in Barendrecht, a suburb of Rotterdam, was the safety officer and site manager for the Nemho project; simultaneously, he was in charge of quality control. He explains: "My responsibilities as a safety officer and site manager are not product or concept-related. In this respect, despite a design concept and façades that were anything but conventional, Nemho was a standard assignment. I had to oversee the processes, to make sure, at the most basic level, that everybody wears the required safety equipment and abides by the safety rules (what I call my 'policing job'), and to bring the various teams to work smoothly together".
He continues: "As far as quality control was concerned, things were a bit different, though. Nemho is based on an architect's design idea, and creative architects like to think outside the box. As a result, the architect's concept was indeed new to everybody. In such a case, I have to go into every detail of the technical drawings and coordinate people at all levels – from carpenters to managers".
As the construction was essentially experimental, many aspects were highly specific and had to be very well taken care of. In addition, the installation was labour-intensive. Gerard Karelse comments: "Using the Trespa® panels like shingles is decidedly original, but you have to make sure that the cladding will stay in place – unlike a conventional ventilated façade, where everything is tried-and-tested. The shingle principle has, by the way, a small downside: if a shingle gets damaged at the bottom or in the middle, you have to peel off the entire shingle column above that one small panel to properly replace it. Preventing such occurrences as part of my assignment."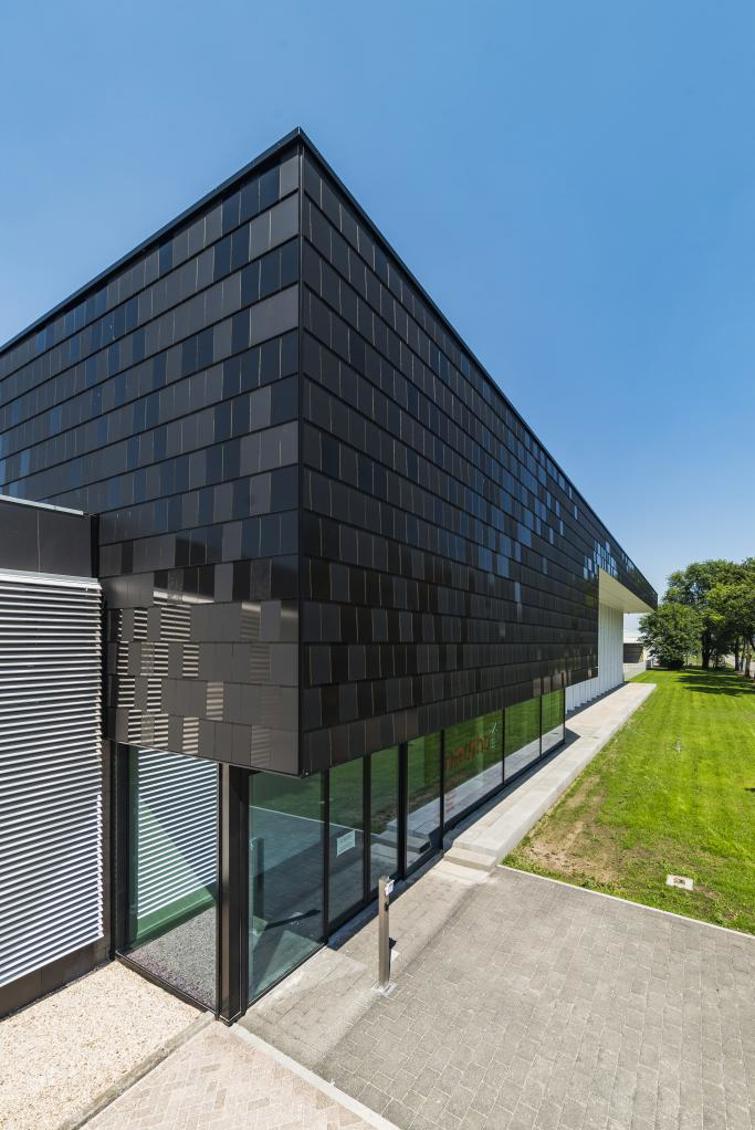 A lot of efforts, a rich reward
Gerard Karelse adds: "In the end, it was all well worth the effort: the completed façade is strikingly beautiful. I found it very cool to be part of such an ambitious and successful project". Sven Drooghmans points out: "The Trespa® product range has evolved quickly over the last decade. I could follow it very well, as we have, over the years, installed something like 80,000m² of Trespa® panels and sidings. As far as quality is concerned, Trespa has always been an 'A supplier'. This is important because we are doing mainly high-end projects for demanding clients, and I hate having to watch my back. More recently, Trespa has also become very innovative, and it is paying off: the decors are attractive, the colours are vibrant and many refined finish options have become available".
He concludes: "In the Netherlands, twenty years ago, Trespa was already very popular. Since many projects, though, were answers to essentially functional purposes, not every building featuring Trespa® panels was architecturally exciting. Back then, Trespa® products were more of a no-nonsense choice. Such a context could not be further away from what we have achieved with Nemho ".
"The cladding looks unlike anything we had seen so far. It makes the façades arresting to say the least – and at the same time, the effects are very subtle. Depending on the time of the day and whether the sky is clear or cloudy, the various blacks of the Meteon® panels generate a dozen of different shades and gloss levels. This has been one of our biggest recent projects, and easily the most challenging. But it is certainly bound to become a milestone for all involved parties".
LOCATION WEERT, NETHERLANDS
ARCHITECT BROEKBAKEMA
INSTALLER LIMEPARTS-DROOGHMANS
PHOTOGRAPHY MARC SOURBRON 
MARKET SEGMENT COMMERCIAL OFFICES
BUILD TYPE NEW
YEAR 2020
FIXING SYSTEM CUSTOMER SPECIFIC
USE FACADE CLADDING
PRODUCT TRESPA® METEON® L9000 METROPOLIS BLACK LUMEN, DIFFUSE & OBLIQUE
Source: trespa.com
ORDER SAMPLES