A striking design with Trespa® Meteon®
The one-of-kind skin of the building and the bold external staircase that bisects the main façade make a strikingly original use of Trespa® Meteon® panels in two solid colours – Athens White and New York Grey. Thomas Widdershoven, who founded the design agency thonik together with Nikki Gonnissen, explains: "thonik was founded back in 1993, and in the meantime, we have transitioned from analog to digital. But beyond images, we are fascinated by spatial graphic design. What would have been better suited to explore this new area than designing our own building? And that is what we did."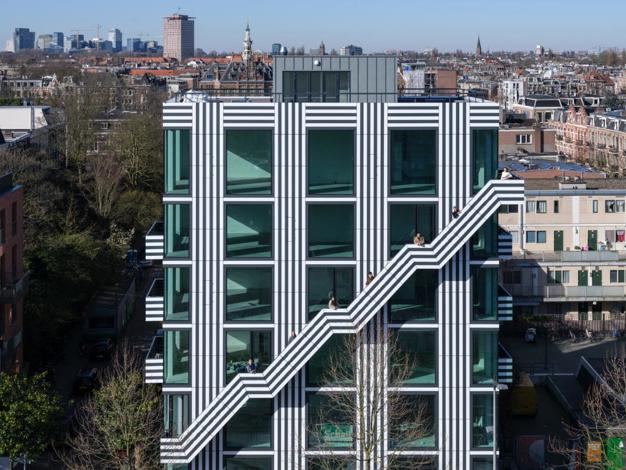 'Open and closed' façades
Thomas Widdershoven continues: "From the start, I had been aiming for the visual impact of 'open and closed' façades. I wanted to alternate floor-to-ceiling windows with a simple and stringent pattern of stripes to achieve a well-balanced visual impact. As a graphic designer, I'm fond of stripes. This is something I understand, and I guess I know how to put them to good use. But this was only one aspect of the project. I wanted our new building to be a statement, to fulfill a mission that would go well beyond its primary function and the way it looks".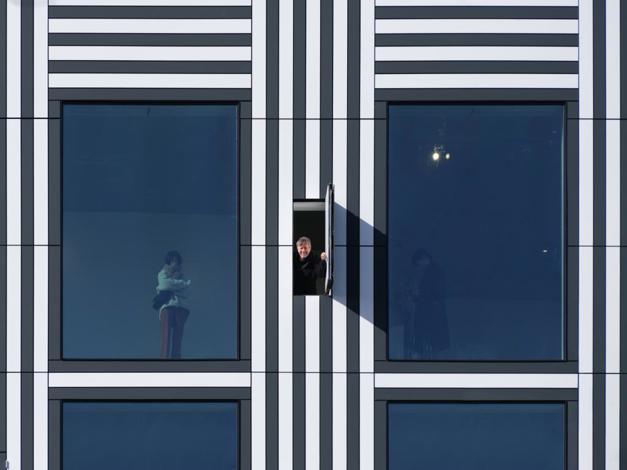 The perfect choice of HPL
Meteon® Lumen had a tactility and a tonal depth that were unique. The fact that the edges of the HPL (High Pressure Laminate) are naturally dark is another advantage worth mentioning: this came in very handy. It helped designers achieve the clean definition of each panel – which they needed to preserve the crisp, linear clarity of the design.
Arjan van Ruyven, the architect in charge, points out that the Diffuse finish was, as well "exactly what we needed": the panels, while not entirely matt, reflect only a tiny fraction of the incoming light in a very subtle way, thus enhancing the colours while avoiding any interference with the building's graphic signature – the arrestingly striped skin that unifies the façades, the balconies and the diagonal stairs.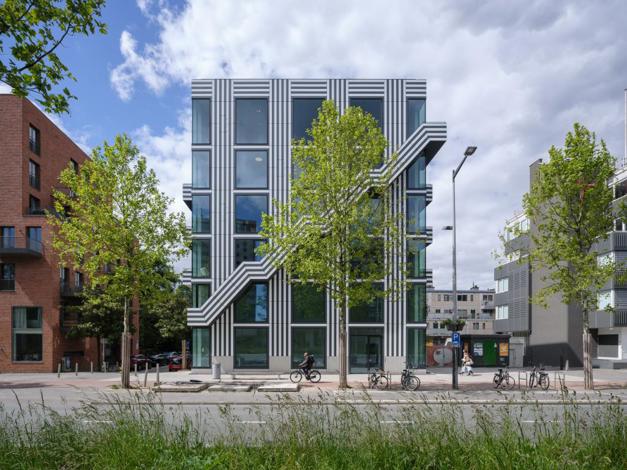 Durable and reliable
Bouwbedrijf Van Schaik, a building firm from Breukelen, south of Amsterdam, was the general contractor for the studio thonik project. It was not the first project that featured Trespa® products, but the company had never been confronted with a design so uncompromising and unusual. Jarco van Dam comments: "We had done projects featuring ventilated façades with Trespa® Meteon® panels. The material is widely used: it is highly weather-resistant, durable and reliable. When you choose Trespa® products, you needn't worry: the whole system is tried-and-tested and the façade will look good, no doubt about it. Although the complexity of studio thonik was on a level of its own and the sub-framing was definitely non-standard, the end result was no exception".